Restaurant and Gastronomy
The Parkhotel Golf offers its specialties to all the lovers of gastronomy, fine dining and gourmet cuisine in its French Restaurant starting from lunch time to dinner. Throughout the day there is open a cozy café, available to all guests and in the summer with the possibility of sitting on the sunny terrace overlooking the hotel garden.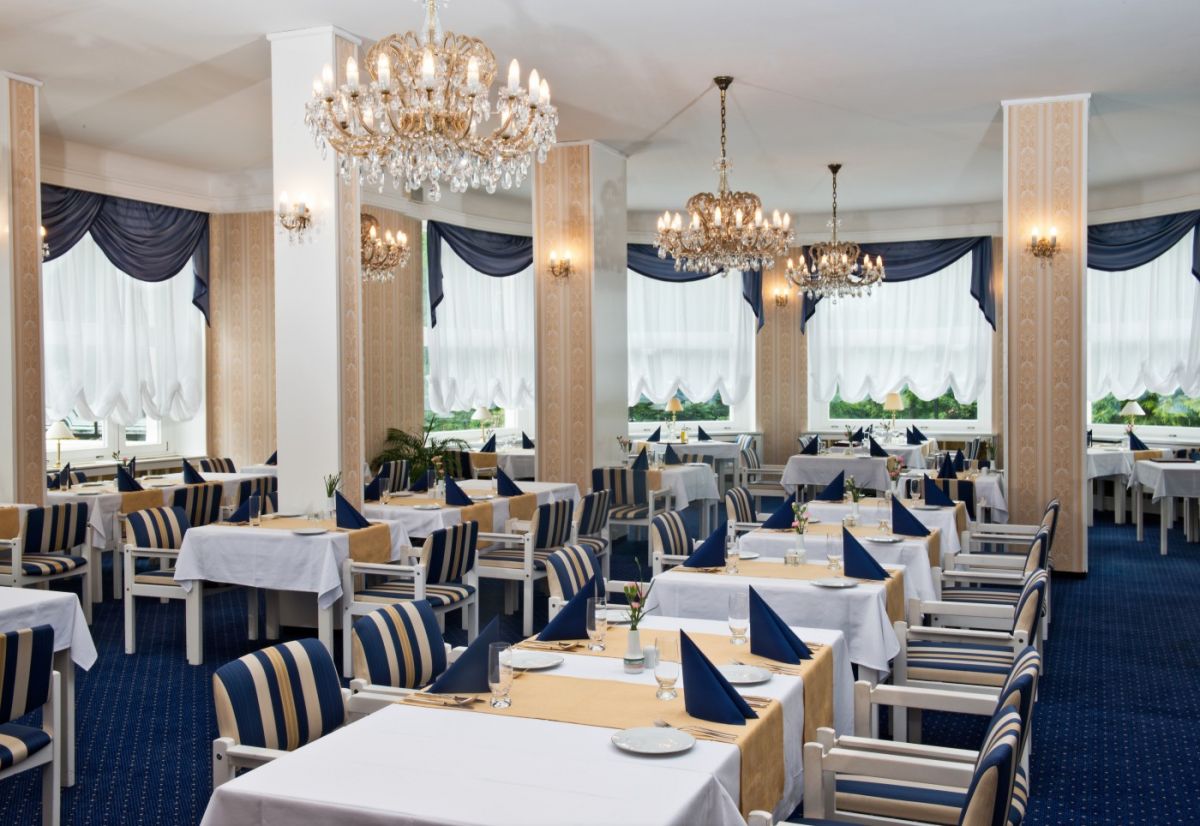 The French Restaurant of Parkhotel Golf provides 54 seats at the table and it is open daily starting at 12 a.m.. You can reserve a table for lunch from 12 p.m. and for dinner from 6 p.m..
The hotel guests can choose between á la carte or a half board menu.
It is open not only for hotel guests.
During the day service is provided by the Café which offers 48 seats, it provides a great place to spend some time with a cup of excellent coffee, piece of home-made cake, ice-cream or light meal during the whole day. It is also a Lobby bar for meeting friends, having a drink or a slight business meeting.
In summer is there possibility of using a spacious terrace oversooking the greenery of the hotel garden. This summer terrace is situated in front of the café, it offers a lovely place for having a cup of coffee, ice-cream sundae, lunch or dinner in the fresh air - app. 60 seats available.
Restaurant and Café with its terrace are available not only to the hotel guests but also to other visitors.
The offer of gourmet specialties prepared daily from fresh ingredients, honestly cooked according to traditional recipes, as well as the possibility of choosing light meals or small snacks or salads during the day, will satisfy every epicure.
In the offer of the Restaurant Parkhotel Golf you will find:
traditional Czech cuisine, honestly prepared by our experienced chefs, but also dishes of international cuisine
specialties from freshwater and sea fish, which we import fresh every week
famous game specialties from the surrounding forests Slavkovsky les
offer of small dishes and snacks for the "little hunger" during the day - offering in our Cafe
individual diet after consultation with the attending physician and chef for the hotel guests as part of the curative hotel stays
variety of hot and cold desserts from the hotel patisserie
sundaes
draught beer Pilsner Urquell
quality wines from Moravia but also a selection of Italian and French wines
In addition to standard catering services, Parkhotel Golf offers the possibility of organizing various gastronomic events:
banquets for up to 200 people
lunches and dinners for a private party of up to 100 people
wedding reception
business seminars
training, meetings, small congresses
garden parties and grill parties
You can contact us at: info@parkhotel-golf.cz or provoz@parkhotel-golf.cz
Podle zákona o evidenci tržeb je prodávající povinen vystavit kupujícímu účtenku. Zároveň je povinen zaevidovat přijatou tržbu u správce daně online; v případě technického výpadku pak nejpozději do 48 hodin.